This project originated from a new year's resolution: to read more, cook more, and look for more beauty in the everyday to shoot.  As I was reading a novel that took place in Africa, with gorgeous and vivid descriptions of local food, I thought I'd cook one of those dishes and photograph it with the book.  From there, this project was born.  For the next 100 books I read, I will cook something inspired by the story and document it with my camera.
Below are the images and mini book reviews, and you can also follow along on Instagram: @bookcooklook
See Let the Kids Dress Themselves'  piece on my project here (click link): Books + Cooking + Look = An Amazing Must-See Project!
Harry Potter and the Deathly Hallows
J. K. Rowling
I'm a little late to the Harry Potter party, but right on time for his 20th anniversary. At the insistence of my 11 year old, I began listening to the stories in my car, but soon found that I needed the faster pace of the books themselves, and the satisfaction of holding the story in my own hands. By the time I reached book seven, Harry Potter and the Deathly Hallows, I couldn't put it down.
Everyone has their own idea of what constitutes a masterpiece, and to me, Deathly Hallows was pretty much PERFECT.  But rather than review the book, which so many people already know and love (and are re-reading this year), I want to focus a bit on wandlore.
One of my favorite parts of the book was a conversation Harry has with Mr. Ollivander, renowned wandmaker, who could identify each one's flexibility, length, type of wood, magical core, and often, the owner.  "The wand chooses the wizard," we read throughout the series. But Deathly Hallows offers a deeper look into the magic behind wandlore, and the allegiance of these wands to those who possess them.
This fascinated me, and inspired me to make these chocolate covered, pretzel rod wands.  Licorice strings, coconut, sesame seeds and metallic sugar spray paint all played a role – which was handy since, you know,  Whole Foods was out of unicorn hair and dragon heartstrings this week (again!).
As much as I wanted to race through the book to learn the fate of our hero, I didn't want the series to end. So now I'll console myself by waiting for tickets to Harry Potter and the Cursed Child on Broadway … and for my local supermarket to start carrying phoenix feathers for my next batch of wands!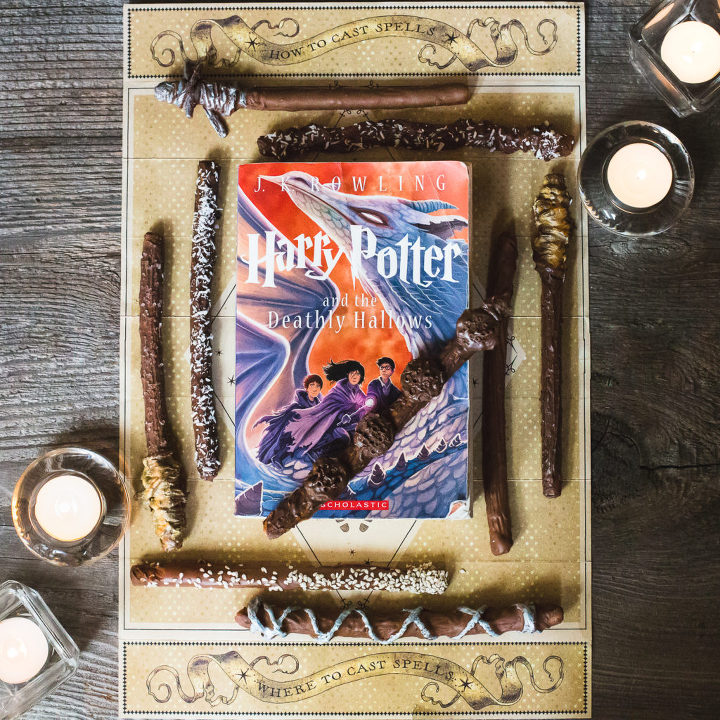 Hum If You Don't Know The Words
Bianca Marais
This lovely and moving novel takes us to apartheid era South Africa where Robin, a young white girl and Beauty, a widowed black schoolteacher, find themselves connected first by violence and then by love.  Their stories alternate by chapter until they ultimately intersect, and as we anticipate their inevitable connection we can see all the ways that they need one another, despite their differences – making their bond all the more compelling when it takes shape.  Full of suspense and emotion, this story challenges how we traditionally define family. It also demonstrates how easily notions of hate can be taught to children, but that these ideas are malleable, and under the right circumstances can not only be dispelled but turned into love.
What's better than an açaí bowl? I knew I'd never make the extravagant South African grills mentioned in this novel – this cover is way too colorful and gorgeous to photograph with a slab of meat! I read this book in Montauk, where my family loves to breakfast at a place called Happy Bowls where surfers wander in after riding the waves for hours and get their frozen fruit on.  So I tried to recreate the açaí bowls I devoured daily while reading this book – it brought me back to summer and hope this photo will do the same for you!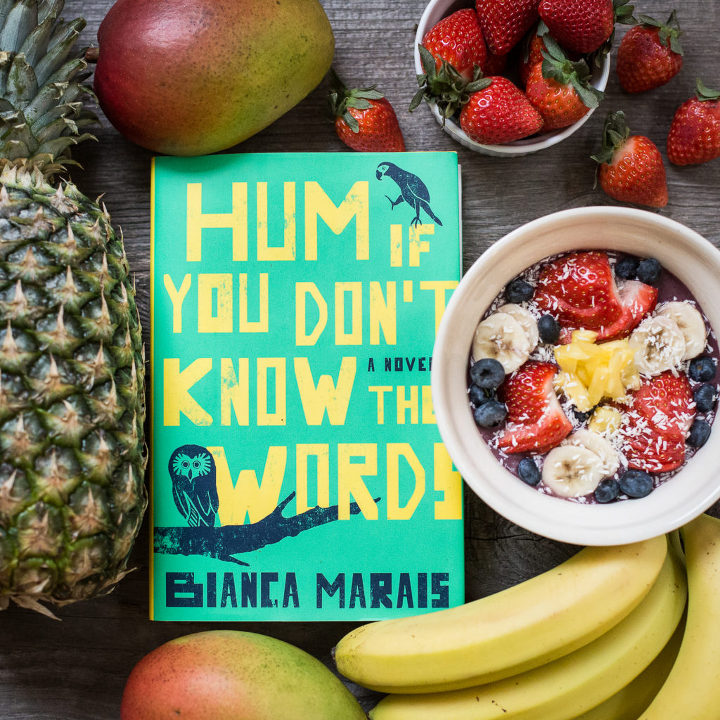 Bear Town
Fredrik Backman
This seemed the perfect book to review on a snow day. In it, Fredrik Backman, author of beloved novel A Man Called Ove, writes about a tiny, frozen town in Sweden obsessed with its high school ice hockey team. When the community is gripped with a scandal that forces its members to choose sides, the moral fabric of the town begins to unravel, with unexpected and tragic consequences.
I have delayed reviewing this novel because I try to be positive on bookcooklook, and truthfully I am in what seems a very small minority of people who didn't love this book.  I didn't think the characters were well-developed, and I found the oddly cryptic ending deeply unsatisfying.  However the dialogue this book may spark is an important one, and there were a few characters who were ultimately compelling.  This book is often described as a hockey-themed Friday Night Lights, but I found myself thinking often of Joyce Carol Oates's We Were The Mulvaneys, for reasons that will be apparent to those who have read both books.  I look forward to reading Backman's other novels; this one just didn't resonate with me.
With gratitude to my Swedish aunt, who made her delicious meatballs for our family for decades and kindly shared her recipe with me. I made a turkey version here, and seeing them brings back lots of lovely childhood memories eating similar meatballs surrounded by twinkling holiday decorations and other traditional Swedish treats. Utsøkt!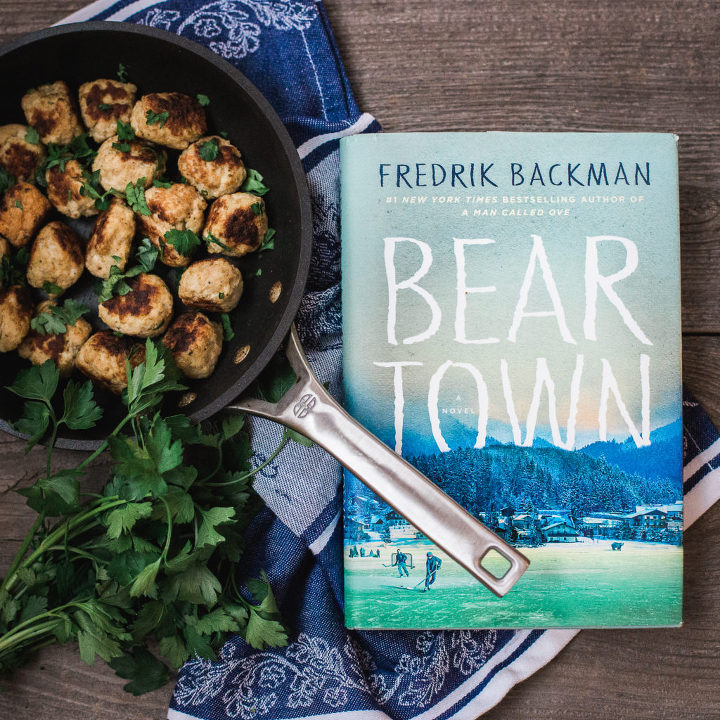 Mrs. Fletcher
Tom Perotta
I laughed, cringed and blushed my way through Mrs. Fletcher, a thoroughly entertaining novel that focuses on Eve, a newly empty-nested mom, and her son Brendan, an unabashedly self-centered lout starting his first year of college. This novel is an exploration of "Gender and Society" (also the name of a course Eve is taking at the local community college) and while it's often funny, it also tackles the isolating loneliness that can come with life transitions, as well as the challenges of parenting a grown child.  Eve's, ahem, adventures and rationalizations for her choices, are at once sad and hilarious.
This novel may be a study in gender roles and identity, but as these characters evolve (or in this case, devolve), it also begs the question of what defines our truest self. Is it the one we present to the world – to friends, family and social media? Or the one that is reflected in our choices, and in our thoughts when we are alone? Can people be both caring and selfish, responsible and naughty, vulnerable and egotistical? This novel is a super fun way to find out. Spoiler: it's all of the above.
Because it's apple season, I made something allegorical: mini apple pie roses. Something traditional but prettied up and with a little extra spice, just like Eve. Move over Mrs. Robinson – there's a new tart in town.

The Twelve Lives of Samuel Hawley
Hannah Tinti
This beautiful, haunting novel chronicles the relationship of Samuel Hawley, hardened criminal and sometime fugitive, and his teenage daughter Loo.  Through alternating chronologies – every other chapter is a flashback to life before fatherhood – we come to understand the contradictions that comprise both characters: grief and acceptance, loss and love, violence and tenderness, loneliness and belonging.
Hawley and Loo's gorgeous, melancholy story is interwoven with their connection to the skies above them – through Loo's understand of and fascination with the stars – and the danger and beauty of water, in their seaside town and in the stories of their past.
This story is filled with fishermen foraging for shelled creatures, so these mussels steamed in wine and garlic from Jessica Seinfeld's Food Swings cookbook seemed a perfect match. High on yum and low on labor, which is my kind of recipe.  Plus they smell like summer by the beach.
My own Dad bought this book for me at A Tale of Two Sisters Bookshop in Montauk, another town filled with salt air and seagulls circling above. So it seems fitting to include these rocks I gathered with my boys from our favorite beach there. Seeing them on this fall day brings me back to summer, when I couldn't put this lovely page-turner down.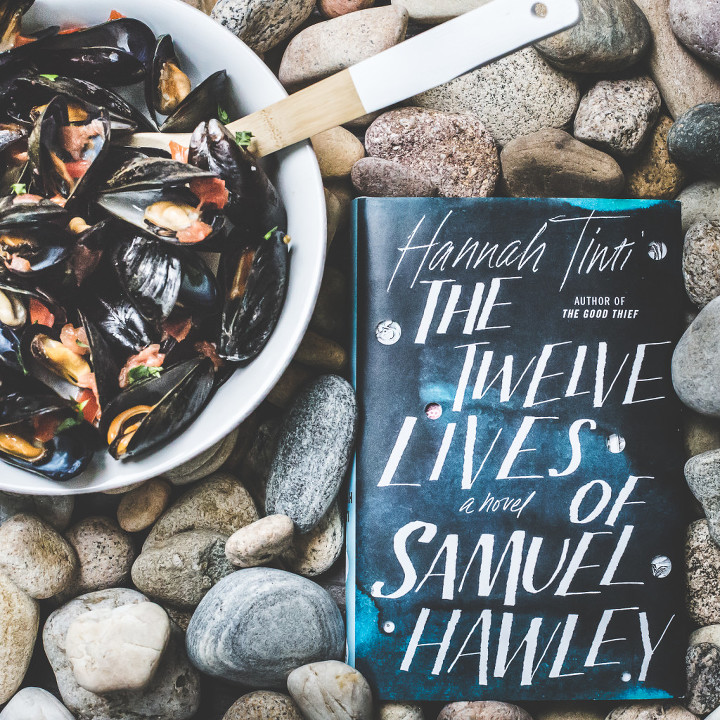 Behold the Dreamers
Imbolo Mbue
What does it take for immigrants to survive, succeed and find happiness in America? Does it require optimism and an open heart? Or cunning, ambition and a willingness to sacrifice everything? This novel explores these questions and more as we follow the story of a Cameroonian couple in New York City, and their wealthy employers.
I adored this incredible story.  I didn't feel ready for it to end, nor to let go of these characters: their tender triumphs, heartbreaking disappointments and agonizing choices.  As they navigate the glitter and grit that is New York City, we consider the meaning of the concept of "home" and where it can truly be found.
So much Cameroonian food in this book! Plantains, pounded yams, chin-chin (crunchy snack), egusi stew (with ground seeds found in Africa), puff puff (fried banana treat), pepper soup with cow feet and chicken gizzards … always, always with jollof rice.  The recipe made so much rice I kept coming back to it again and again, much as I expect I will to this book.  I feel sure I'll re-read it in the future and in the meantime will hope for a sequel!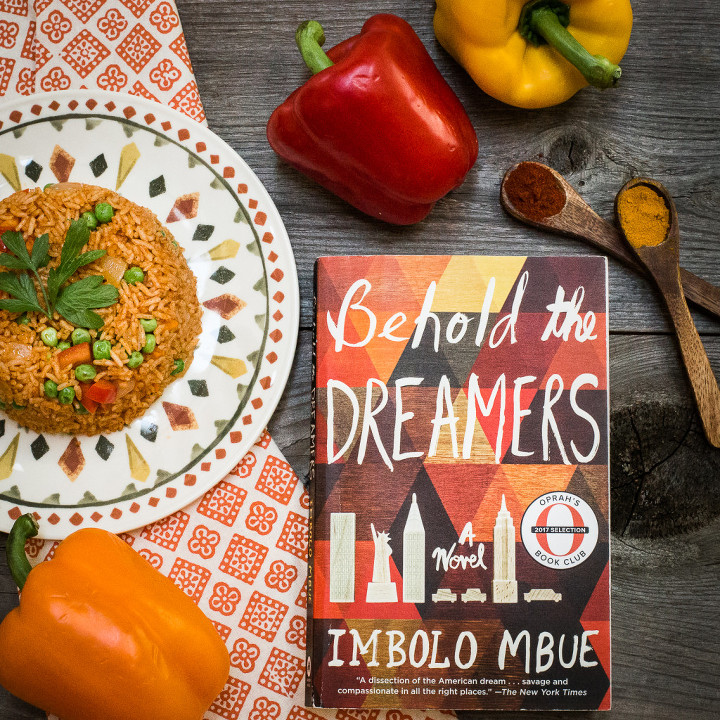 Lilac Girls
by Martha Hall Kelly
"It's a miracle all this beauty emerges after such hardship, don't you think?" asks one character to another, about her lilacs that only blossom after a harsh winter. The same could be said of this unforgettable story based on a group of survivors of Ravensbrück, a Nazi concentration camp for women. Told from the perspective of a real life New York socialite whose support brought their story to light, a Polish camp survivor and a German doctor, Lilac Girls is beautiful, haunting, heartbreaking and important. Read it and then pass it along to a mother, daughter, sister or friend. The female bonds in this story are something special to share.
There are lots of food references throughout this story, but this Polish poppy cake (makeowiec) was an easy choice.  It appeared during a rare moment of joy and light – and showed that even in the most dire of circumstances, hope can still exist.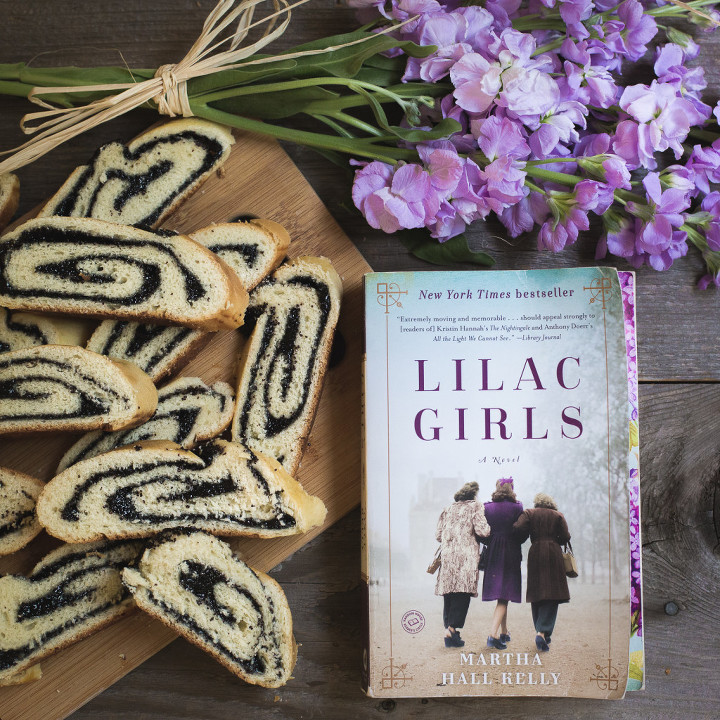 A Man Called Ove
by Frederick Backman
How I loved this story! I've tried to reflect on what it is about this book – about a curmudgeonly older man in Sweden who gets to know his new neighbors – that touched me so. I think it's the beautiful simplicity of Ove's values (rigid as they may be) along with the lovely, earnest telling of Ove's story.  I have recommended this book to so many friends with disparate reading tastes and all of them adored Ove.  I laughed out loud, cried more than a few times and shared this book with anyone who is willing to open their heart to a grumpy elderly man who is now one of my favorite characters, ever.
I paired this book with Swedish pancakes stuffed with sweet ricotta cheese, topped with lingonberry jam.  Ove is a man of simple culinary tastes and I'm sorry to say his favorite foods would not photograph beautifully.  So I went with a traditional and pretty Swedish dish that I'm sure he'd find impractical and too sweet.  But I thought the amount of sweetness was just right, much like this truly memorable gem of a book.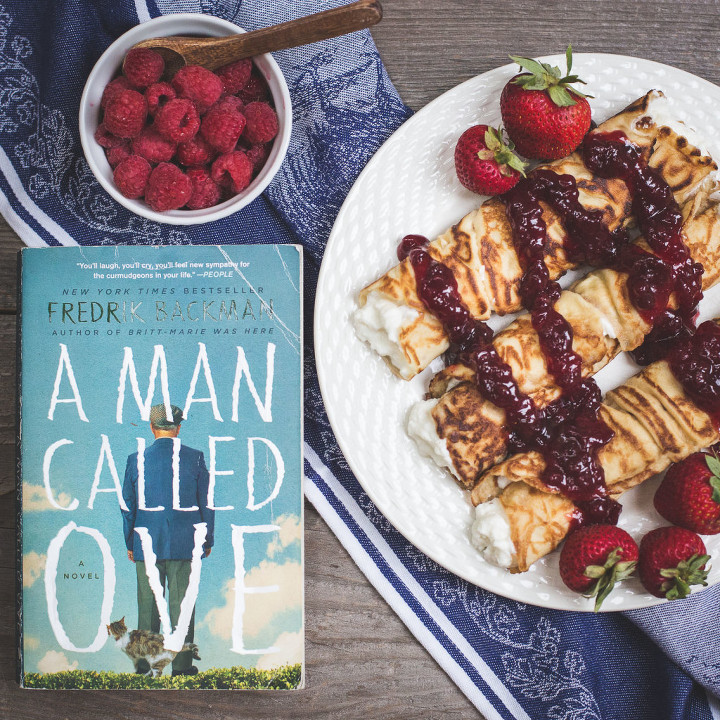 Commonwealth
by Ann Patchett
This book is a must read for anyone who loves the dysfunctional family genre, and/or Ann Patchett's wonderful prose. The first chapter could be a stand alone short story, and is special in its own right. Commonwealth feels contemporary and nostalgic at the same time, and draws the reader to its real, flawed, raw characters who test the boundaries of how far family loyalty must go.
What a super fun collab with the incredibly talented chef and cooking-class boss lady The Balaboosta Chef ! Oranges factor prominently in the story's plot, as do bees. In keeping with that theme, The Balaboosta Chef created this unbelievably delicious crostini with citrus zested ricotta, crushed pistachios, honey, and two kinds of oranges on a garlicky grilled baguette.  So much fun to collaborate and talk books and more with this amazing talent!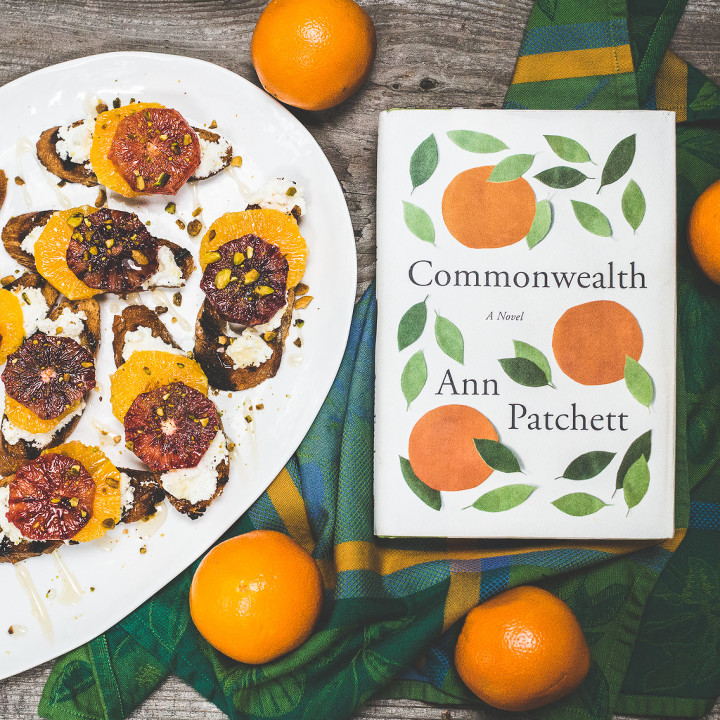 Harry Potter and the Goblet of Fire
by J. K. Rowling
Ever since my youngest persuaded me to resume my journey through Hogwarts – which had stalled for years at Book Three – I've wondered how to do these iconic books justice in BookCookLook.  Finally, as I finished the brilliant and suspenseful Harry Potter and the Goblet of Fire, an idea: cauldron cakes, direct from the Hogwarts Express.
It's fascinating how many recipes exist online for Harry's Potter's cauldron cakes. Nearly all involve a chocolate cake "cauldron" with a magical marshmallowy filling.  My first batch turned out much like one of Neville Longbottom's assignments in Potions class – but the second was devoured by my favorite Muggle kids faster than you can say expelliarmus!
Recommended pairing: a frothy glass of butter beer with a side of chocolate frogs.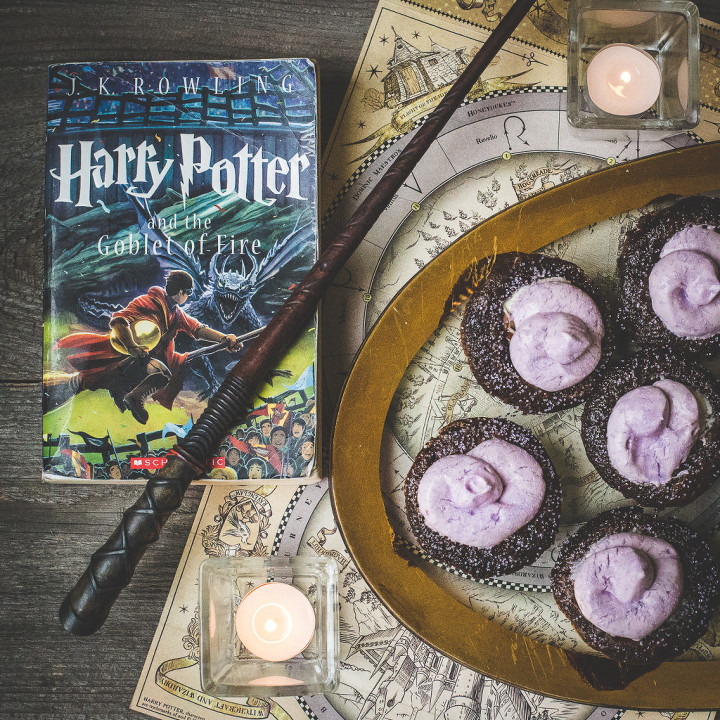 The Underground Railroad
by Colson Whitehead
This is an important, magnificent and complex book.  It filled me with heartbreak for these characters, and shame for this period in history. It's the story of slavery as experienced by individual human beings – not as an institution, a cause for war, a history chapter – but through people who we come to believe in, know and embrace. And it begs the question of whether real escape – actual or metaphorical – from slavery's grasp is ever possible.
Of the railroad itself, and those who built it: "On one end there was who you were before you went underground, and on the other end a new person steps out into the light.  The up-top world must be so ordinary compared to the miracle beneath, the miracle you made with your sweat and blood. The secret triumph you keep in your heart."
In the book's early chapters, squares of ginger cake are enjoyed during a rare plantation birthday celebration. These are courtesy of Smitten Kitchen and as I baked them thinking about Barack Obama's interview with the New York Times where he shared that this was the last book he read while in office.  An inspiring reminder that if he makes time to read books, the rest of us can, too.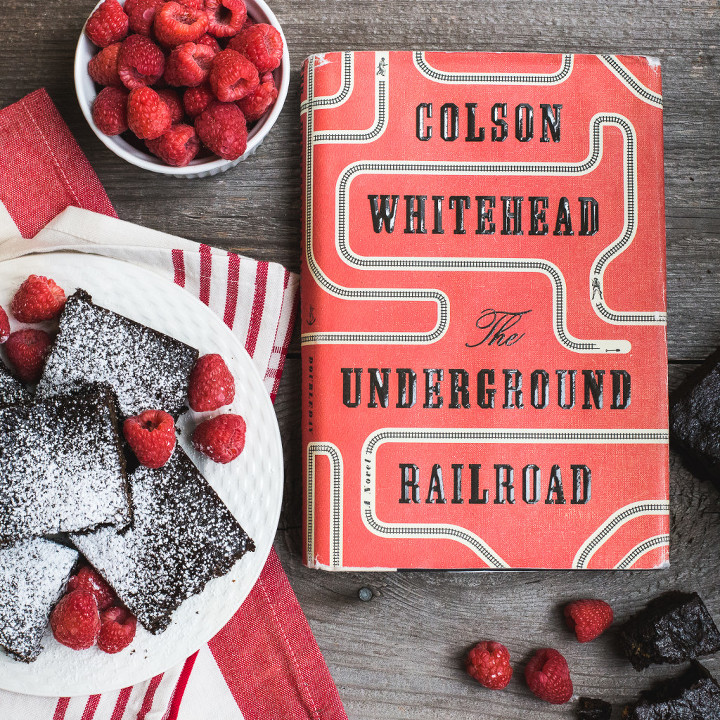 The Last Painting of Sara de Vos 
by Dominic Smith
This charming book is an art lover's dream, with plenty of history, mystery and talk of brushwork.  There are two parallel stories of women artists in different centuries: a master Dutch painter, and the talented forger who copies her work.  The book has one stolen painting, more than a few broken hearts, and beautifully connected themes of regret and redemption.
Here is my take on chef Jamie Oliver's famous Dutch oven chicken braised in milk, reimagined deliciously by The Kitchn for a slow cooker.  It's as close as I could get to actually whipping up something Dutch.  (So I did a little forgery here, too!)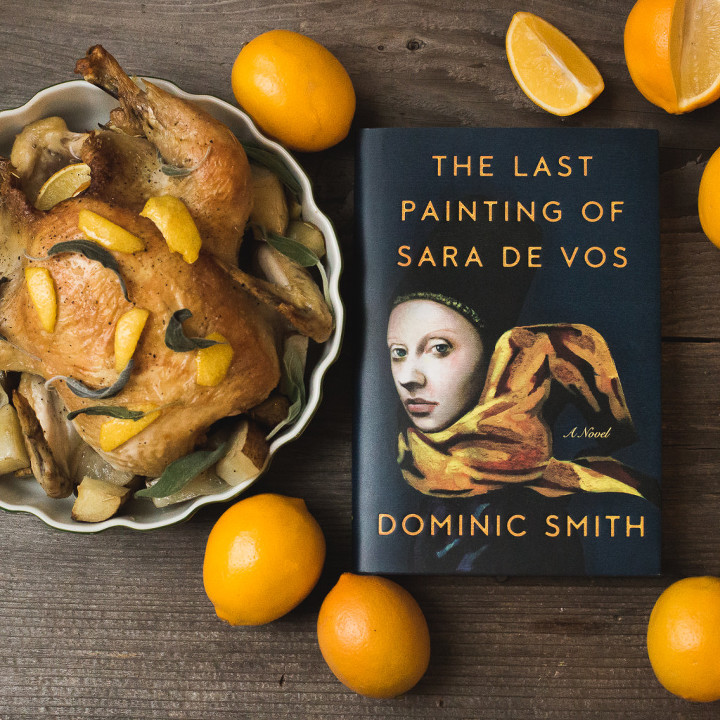 Euphoria
by Lily King
This anthropologist love triangle set in the jungles of 1930s New Guinea is no tender treehouse romance.  Loosely based on the life of Margaret Mead, it is full of danger, passion and suspense.  The lush tropical setting and tribal customs drew me in – but even more fascinating was the discovery that the Western observers were, in some ways, no more "civilized" than the natives once immersed in their environment.  A unique novel that keenly observes the tension and nuance between its characters like few others I've read.
These delicious New Guinea vegetables in spiced coconut broth smell as delicious as they taste.  In the story, characters refer to wine as a symbol for what's thrilling and sensual, and bread for what's familiar and essential.  This recipe is a little of both: utilitarian potatoes and squash with exotic, tropical coconut and ginger.  Delicious and different, like the story itself.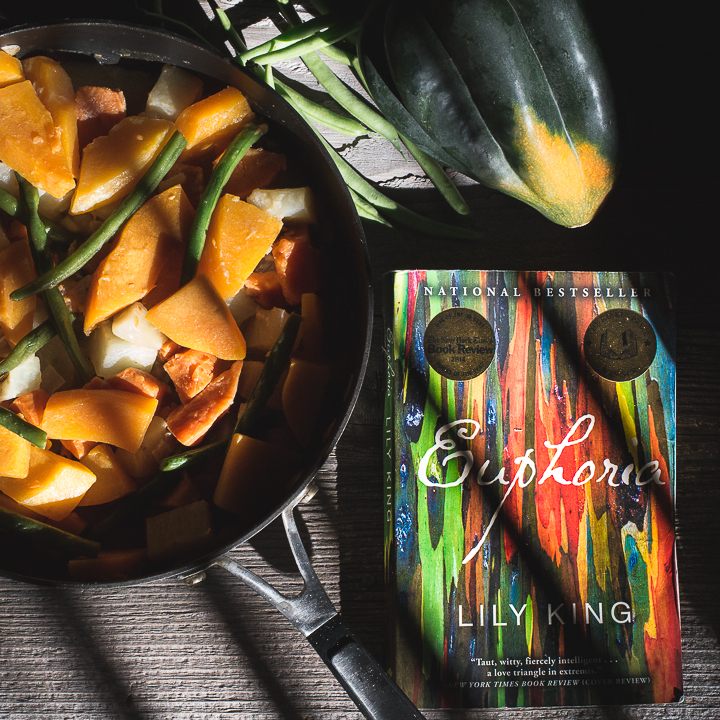 The Marriage of Opposites
by Alice Hoffman
This beautiful book, about the mother of painter Camille Pissaro, set in St. Thomas and Paris in the 1800s is a new favorite.  Through the vivid descriptions of the lush tropical setting, island animals and mystical spirits, we are immersed in an entirely different world that gives historical fiction a different world that gives historical fiction a gorgeous new twist.  Exquisite and transporting, this is a story of forbidden love, and the power of faith and art to renew us.
Coconut cake appears frequently in this story.  It is something to bond over, a token of affection, in some cases a peace offering.  Mine is adapted from the master Ina Garten and is still intact as I write this, but not for long.

A Spool of Blue Thread
by Anne Tyler
This multi-generational novel chronicling a Baltimore family is a moving and engaging read.  It's not plot-driven; its momentum is derived from subtle family dynamics that propel the characters forward, or rather backward, as the book starts in the present and goes mostly in reverse chronology.
Each of the book's parts serve almost as a short story.  The best of these describes a pivotal day in the main character's life that begins as a "beautiful, breezy, yellow-and-green morning in July of 1959" and is referenced throughout the book.  The entirety of this chapter shows how slowly, gently, inevitably, this character makes a decision that will shape her life and the lives of all the generations that follow.  We know her choice already, but watching her certainty unfold throughout this chapter is a lovely read, and a testament to how decisions reside in the corners of our awareness until their presence can no longer be ignored.
It is here that biscuits are made, shaped with an upside-down drinking glass.  My buttermilk biscuits may not be authentically southern, but they made me look outside my own windows at a breezy, yellow-and-green afternoon and realize I'd become very fond of this book and many of the characters in it.

Fates and Furies
by Lauren Groff
The acclaim for this National Book Award finalist – and Obama's favorite book of 2015 – is well deserved. It's the dual-perspective picture of a marriage, told in two parts with two disparate viewpoints.  The book's descriptions of love, obsession, narcissism, desperation, self-loathing and adoration all leave us wondering how two people could live so close together with their respective senses of reality so far apart.
There are very few positive food mentions in this often-dark novel.  One main character has an unfortunate nickname referencing pie, so here's what I thought that pie might look like in real life.  Mine was much sweeter than the nickname and was gone in an instant.

Big Magic
by Elizabeth Gilbert
Please pardon the appearance of this book – I folded down so many favorite pages that I wasn't sure it would be in good enough shape for this project!
This was the perfect book to read as I embark on a new year with bookcooklook.  It was recommended by so many photographer friends (along with the brilliant Lin-Manuel Miranda on his Twitter feed) , I adored Gilbert's Eat Pray Love and I just knew I'd love it from page one.  Encouragement, inspiration, really smart hey-it's-ok-isms and just a wonderful read.
Pomegranates seemed just the right ingredient to use for this book.  Filled with beautiful glowy seeds, like little ideas inside all of us waiting to be discovered and enjoyed.  Pom smoothie anyone?  Raise your hand if you're atoning for some holiday eating!

The Nightingale
by Kristin Hannah
There's no shortage of beautiful WWII novels, but this one drew me in deep from the beginning and kept me there until the last page.  It's billed as a story about two sisters, but it's mainly about courage, sacrifice and survival.
It's also about critical choices and the path each one takes us on, which is why I chose this whole branzino with roasted vegetables.  In this story, the gift of a fish to a hungry family in occupied France is one such choice, its acceptance fraught with moral conflict.  This fish shows us that during wartime, not even a simple kindness and a shared meal are as straightforward as they seem.

Eleanor & Park
Rainbow Rowell
I may not be the intended demographic for this very touching YA romance, but that didn't stop me from enjoying it – especially since Eleanor and Park are 1980s teenagers (like I was) and dig The Smiths and Prefab Sprout (like I did).
This book recalls what it's like to be 16, when the world seems to orbit around your emotions and every feeling is magnified 1000%.  The characters' lovestruck charm and mutual inability to fit in won me over, even as the 40-something mom in me wants to plead "make good choices!" at them through the pages.  The story had a sweet, quirky John Hughes movie vibe – and I mean that in the best possible way.
In one of the book's pivotal scenes, an altercation stems from a holiday table with no pumpkin pie.  Here's min – perfect for this season and easy to make – but not an easy photo to snap with little hands waiting to grab a slice!

Humans of New York: Stories
by Brandon Stanton
I pre-ordered this book months ago.  What a happy surprise to find it waiting in my mailbox on release day, full of faces and stories waiting to be discovered.  Brandon Stanton quit his day job to photograph and interview New Yorkers, and since then has been sharing the results with his 15+ million followers on his Humans of New York blog.  This book includes highlights of these images and conversations.
My favorite story is one I followed avidly as it unfolded in real time on the HONY blog: Stanton interviewed a young teen in a low income area of Brooklyn who spoke with admiration of his school principal.  After a series of visits to the school, HONY followers eventually donated a total of $1 million to the school for scholarship funds and field trips to Harvard.  The student, principal and photographer were later invited to the White House to meet the President.
Humans of New York amazes because it reminds us: it's not all about you.  The people we interact with every day have their own joys, sorrows, struggles, victories and passions that they may be experiencing.  It's a message that applies anywhere – just more dramatically and colorfully in New York.
For this post I made – what else? – hot dogs.  I would say they ranked somewhere between the dogs at Nathan's on Coney Island and Yankees Stadium.  Not bad for a suburban grilled special.

Wonder
by RJ Palacio
I recommend reading this book aloud, with people dear to you.  it is something to be experienced, discussed, delighted in and cried over.  (My boys took to pelting me with pillows every time I got weepy, which was A LOT.)
I think this book should be required reading for all children at some point in their grade school years.  And maybe all adults too.  And basically anyone who wants to be inspired and moved by a story of growth, courage and humanity that I know will stay with me for a very long time.
"'Shall we make a new rule of life … always to try to be a little kinder than is necessary?'" this book asks.  "'Because it's not enough to be kind.  One should be kinder than needed … We carry with us, as human beings, not just the capacity to be kind, but the very choice of kindness.'"
I was sad to say goodbye to this book at the last page, but it is a story to be celebrated, so we did: with a dozen cupcakes for us and one for August Pullman, my new hero.

Americanah
by Chimamanda Ngozi Adichie
Ever read a book so astute and well-observed that it seems impossible that the characters don't actually exist? Americanah is that, and more.
This perspective-changing novel follows Ifemelu's journey from Nigerian schoolgirl to American writer, and back to Africa again.  It is a true education on race and the immigrant experience in this country, without being pedantic or preachy. Rather, we learn, and hopefully grow, through Ifemelu's words, her wit, her loves – and the evolution of her hairstyles.
I was inspired to make this dessert during a tender moment in this story between Ifemelu and her childhood sweetheart, Obinze, whose mother is making mango pies. A touch of both Nigeria and America in this one: beautiful, sweet and a little tart, just like Ifemelu herself.

The Rocks
by Peter Nichols
I admit it: I bought this book for the cover, and the promise of a 400-page summer holiday in Mallorca.  it's a multi-generational story of love and regret, told over several decades.  Through the reverse chronology narrative, the characters are propelled toward a fate that seems inevitable – but is in fact shaped by choices that affect everything thereafter.
Such gorgeous descriptions of coastal Spanish food! And of olive and lemon trees that were more loved and well-tended than any of the book's (often deplorable) characters. Pictured here: seafood paella, much like one from a cafe near Los Roques.

Crazy Rich Asians
by Kevin Kwan
I've been seeing the sequel to this novel in every beach bag, so I thought I'd give the first one a try.  Verdict: this book is a hoot!  It's a frequently hilarious story that will leave you with a vast knowledge of how the fantastically rich of China acquire, hoard, spend, flaunt, battle over and obsess about their limitless wealth.
But their lives are enviable than you'd think – as one character laments, "at some point, we all have to pay the price for our excesses." True, but they sure make for a fun summer read.
Nearly every chapter of this book has exquisitely described food.  I finally settled on coconut laksa, which made a glam appearance in this book, and is both rich (in flavor) and crazy (easy to make).  Alamak, it was good!

Station Eleven
by Emily St. John Mandel
While making these, I thought a lot about this unforgettable book, one of my favorites. This story takes place before and after a flu pandemic that eliminates 99% of the world's population, and civilization as we know it.
Sounds grim, but this post-apocalyptic novel is really about finding love, friendship, hope, spirituality, connection and purpose in the wake of the unthinkable. Also about appreciating the technology and modern conveniences we often think isolate us, but in many ways bring us closer. Most of all it's about humanity, and the ways it changes a lot, but not really so much, when everything around it collapses.
Late in the story, one survivor asks another, "Do you remember chocolate-chip cookies?" And his friend responds, "I dream of chocolate-chip cookies. Don't torture me."
Here are mine. What would you miss? Go have some today.

Tell the Wolves I'm Home
by Carol Rifka Brunt
This novel felt like it was about someone I could have known as a suburban teen in the 80s, living not far from the setting of this story.
The characters were well developed and felt real – but I disagreed with some of their choices, and reading this story as a parent I felt both frustrated and moved by them. It's a beautiful story and I'm glad to have read it. I even think it could be classified as YA fiction, for the right YA who can handle some of the heavier themes.
For this book, I made black and white cookies, since this dessert creates a special bond between two friends-to-be who have yet to meet. As a New Yorker I am a purist about black and white cookies, and these are not classic form. But something tells me the almost-YA audience in my house won't mind.

Everything I Never Told You
by Celeste Ng
This book broke my heart a bit for this fractured family. Disconnect, loss and redemption in this beautiful portrayal of what unfolds in the absence of communication among loved ones. It's a sad but so lovely read.
Lots of food themes in this book, mainly as a symbol of domestic duty, rarely for joy or comfort. Hard boiled eggs are featured often, so here are my simple deviled eggs. My mom's secret ingredient is a little curry with the yolks. No cookbook needed.

The Rosie Project
by Graeme Simsion
I think my favorite thing about this sweet book is how hard the main character worked to learn empathy. Because it's that something we all could do better?
Homemade lemon squares with this book, because Don knew just what to do when life gave him lemons. (OK: it's because they look cute with the cover.)

The Storied Life of A. J. Fikry
by Gabrielle Zevin
Sometimes the right book comes along at the right time, as this charming story did for me. It's about a cantankerous but very endearing bookstore owner who finds a circuitous route to happiness via a mysterious parcel left at his shop.
While it's not light, exactly, it felt less dense than my last succession of novels.
And it's a true book-lover's book, with plenty of fiction in-jokes and author references.
I made some simple cinnamon mini-donuts, as they seemed the kind of thing the bookshop might sell if it had a café. These were promptly frosted, sprinkled and devoured by my children after being photographed. A. J. Fikry himself would be appalled!

El Deafo
by Cece Bell
Kidlit edition of this project.
This wonderful graphic novel and memoir features a hearing impaired girl, portrayed as a bunny, reimagined as a superhero.
A unique take on this spunky child's path to acceptance (hint one: got to love yourself first) and friendship (hint two: see hint one).
For this book, I made our superhero a superfood smoothie.
Full disclosure: my own kiddos devoured the book but not the veggies. Something tells me little Cece would approve.

The Girl on the Train
by Paul Hawkins
I didn't want to like this book.
Psychological thrillers are not my genre.
I've only ever read two – also with Girl in the title – one Dragon Tattooed and one Gone.
But there's something to be said for a page-turner you can read in two days flat.
And there's definitely nothing wrong with some dark suspense when you're snowed in.
Here's a little blackout cake in honor of our boozy heroine – those who have read it will know why.

All the Light We Cannot See
by Anthony Doerr
There's nothing I could possibly add that hasn't been said already about this magnificent WWII novel, the most beautiful story I've read in ages.
What to cook? There's scarcely any food mentioned, only longing for food.
Canned peaches, shared. A simple galette.
Here's mine, homemade with peaches and plums
I'm hoping the sea salt is from somewhere near Saint-Malo.

Cutting for Stone
by Abraham Verghese
My experience with this beautiful book was a little like making this mesir wot.
We had a few false starts. I wasn't sure at first how we'd get along.
And then the rich texture, and the sense of traveling to the other side of the world, won me over completely.
Plus, it's about brothers. Sold.
I was sorry to see it end. But at least my kitchen still smells like coriander and ginger.

The One and Only Ivan
by Katherine Applegate
New photo project! This year I resolved to read more, cook more, and look for more everyday beauty to shoot. Voila: a new project was born.
For each book I read this year I hope to cook something new inspired by the story and document it with my camera.
First, this lovely family story about a sweet gorilla named Ivan. Don't miss this book: it's like Charlotte's Web with circus animals. Based on an actual gorilla who was abducted from the jungle and brought to live in a shopping mall, it's filled with characters whose compassion made me weep, and tenderness I won't soon forget.
I thought I'd make some banana bread in Ivan's honor – with lots of chocolate chips in honor of the little readers in my home who enjoyed this story over many bedtimes.